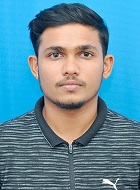 Congratulations to Mr. Venkatesh Prabhu Gaonkar, Assistant Professor, Department of Geography & Research Center (MSc. Geoinformatics) for having published the research paper.

Prabhu Gaonkar Venkatesh, G., & Nadaf, F. M. (2023). Transition Modelling of Land Use Land Cover Dynamics in Bardez Taluka of Goa-India (1991-2021). Disaster Advances, 16(2), 13-24. DOI: 10.25303/1602da013024, ISSN No. 2278-4543 (Scopus Indexed care II)

The college is proud of his achievement!