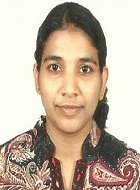 Congratulations to Dr. Lactina R. Gonsalves, Assistant Professor, Department of Chemistry for having published the research paper.

L. R. Gonsalves, S. G. Gawas, Sher Singh Meena & V. M. S. Verenkar (2022). Size variation and magnetic dilution effects on the structure and magnetic properties of cobalt zinc ferrite. Journal of Materials Science: Materials in Electronics, 33, 20144–20161, DOI: 10.1007/s10854-022-08833-2 (Indexed in Scopus)

The college is proud of her achievement!.