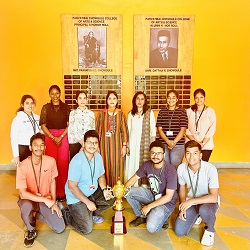 Congratulations to the winners of 'Zymogenix 2023'!

The students of the Department of Zoology participated in the first edition of 'Zymogenix 2023', an intercollegiate event organized by the Postgraduate Department of Food Technology, Carmel College of Arts, Science & Commerce for Women, Nuvem on 4th March, 2023. Life Science Departments of all Colleges in Goa participated in various events.

Our college secured First Place in the overall event.

The college is proud of their achievements!.